Hello there everyone!

I hope discovering this new challenge blog has added a bit of fun & excitement to your day!!

We are all ready to roll with our first challenge!
If you are interested in reading about how & why this challenge site came into being take a look at the "About Us" tab on the top of the blog. Acquainting yourself with the tabs at the top of our site should give you all the information you need to know about anything to do with 'Scrap Around the World', including how to take part in our challenges!
We are a group of 14 women from all around the globe, of different ages, cultures & circumstances, united by our love of scrapbooking! It is a universal language that we all understand!!
That's why I chose the name 'Scrap Around the World', because, literally, that is what we are all doing :)
Will you join us on our journey every month? I do hope so!
Our site is a 'Challenge Blog' meaning that it is here to inspire & there is no financial reward for myself or any of my design team. What we WOULD really appreciate is your support, because that would just be FUN & that is ultimately what scrapbooking is all about!
We are on the look out for players to take part in our challenges & make it a roaring success & followers to support us & encourage sponsorship so please join our blog & follow us officially!
We are hoping to be able to offer you monthly challenges with great prizes & guest designer opportunities too so let's do this thing & have some fun!!
Remember to please leave some love for us in the comments -
so often it's your encouraging words that keep people going!!
♥♥♥♥♥♥♥♥♥♥♥♥♥♥
May 2013 Challenge 1
Each month we will present you with a mood board & a sketch, together with a mood board/sketch combo image for you to save to your computer & upload to your blog when taking part in our challenges.
She is our challenge host this month & will be monitoring the comments on this post
& answering any questions you may have (also directly in the comments).
All you need to do is be inspired by the mood board (in ANY way)
& use our sketch as your starting point.
How to use our sketches
As you would any other sketch. We would like to see that it definitely inspired you & was your 'starting point' but you can 'make it your own' by flipping it, turning it, inverting it & moving things about if you like. You can also change the photo orientation and number of photos to be as few or as many as you like.
**** the above image MUST appear on the blog post containing your challenge entry please****
You also need to mention that you are playing along with the current challenge at Scrap Around The World & link up to it please :)
How to use our mood boards
Our mood boards are for your INSPIRATION only. You can be inspired by one of the images, all of the images, or any number of them, or even parts thereof. For example, on this board you may be inspired by the colours (either all of them or just one, two or more) but you do not have to use any colours on the board if you don't want to. Other aspects of the mood board that could inspire you are, for example, the beads, circles, fringing, cracks, texture, leather, chandeliers, turquoise, rust (colour or rusty elements) ie brass/metal. Pink, purple, organic shapes, swirls, feathers, fluff, fibres, distressing, ombre effects, flowers, bows, lace, flower-soft & filigree work (fine cut embellishments such as laser chipboard with detailed designs).


It's entirely up to you! Be Inspired in any way!!
♥♥♥♥♥♥♥♥♥♥♥♥♥♥
Here are the examples from our talented design team.


I will be introducing our designers to you over the course of this month but you can also read about them under the DESIGN TEAM tab & visit their blogs by clicking on the images of their pretty faces in our sidebar :)
'P.S - I Love You' by
Agnieszka Bellaidea
I had a chance to create the very first Mood Board for 'Scrap Around The World' and I used my favourite colour combo! I also used sepia for my photo and touch of rusty gold. I used a mask to simulate the wooden texture, small blue pearls, fabric and flowers , all inspired by my mood board! I hope you will have as much fun with it as I did!!
'Have Faith' by
Keren Tamir
I love this picture of the beautiful sunset in Florida. I was inspired by the colours of the mood board. I love the combination of turquoise and brown and it worked perfectly with the photo. I also got inspired by the beautiful rustic doors & was so glad I could use these gorgeous wooden doors from Prima! I can't wait to see everyone's creations!!
'Dare To Be You' by
Anupama Choudary
I switched things up with the sketch by rotating it once to the right. The mood board inspired me to emulate the chair sash on my daughter's dress and to use a chandelier as one of my embellishments. The intricate work on the table cloth and the grill design on the doors influenced my choice of patterned papers. I just LOVED this mood board!
'Discover Small Things' by
Zanka (Zaneta Glowa)
I was inspired by the rich textures of the mood board & wanted to create a rugged, worn look. I loved the filigree windows so added various rectangular frames to mimic them, as well as the design of the sketch. I chose a monochromatic colour scheme accented with the gorgeous turquoise & browns of the mood board. Thank you Agnieszka!
'Days When You Could Fly' by
Leonie Neal-Dawson
I stayed quite true to the sketch as you can see and I found the rusted orange tone appealing on this gorgeous mood board. I replicated the distressed look using Kaisercrafts' Basecoat range, adding distress inks and stamping. The lace table cloth and lattice work of the doors in the mood board inspired the lace-type stencil work behind my photos & cluster.
'Memories' by
Eila Sandberg
The mood board made me think of a romantic dinner for two in a secret garden. The intricate lattice details of the doors immediately chose the ornate chipboard gate for me. The pearls in the chandelier and the jewellery followed next in the form of shimmering sequins. The circle prompted thoughts of a floral wreath. Thank you Agnieszka for such vivid inspiration!
'My story' by
Kasia Tomaszewska
I was inspired by the gorgeous colours of the mood board, especially the turquoise. If you have ever been to Istanbul you will know how much this beautiful, fresh colour appears in our scenery- mostly in the amazing colour of Bosphorus water. I added fabric & pale wood patterned paper in keeping with the soft tablecloth & wood textures of the board.
'Grateful' by
Jessy Christopher
I was inspired by all the images on the mood board! The wooden background was inspired by the 1st photo ie. the woods/trees. The table cloth on the 2nd photo inspired the black & white paper I chose. I used turquoise flowers, mist and stickers in keeping with photo no. 3 & a chandelier image as per photo 4. My other details were inspired by the awesome sketch!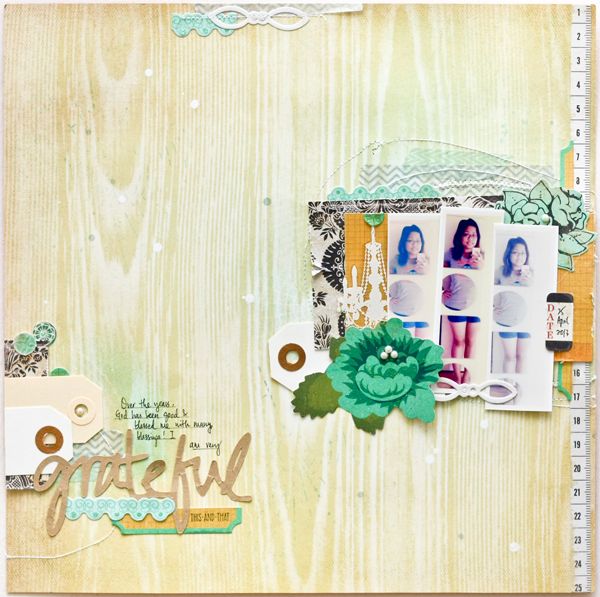 'Beautiful Memories' by
Helen Tilbury
I chose my photo based on the neutral tones in the board, with a touch of the turquoise & pink in my daughters' clothing. The dried leaves on the floor of photo 1 inspired my use of brown-dyed muslin & the table-cloth & chair-covers prompted the use of turquoise lace & cheesecloth. I couldn't resist accenting with pink & purple blooms just like in the board!
'You have
my heart' by Juraci Falcucci
I was inspired by the colours on the mood board, particularly the turquoise, which I love. The sketch inspired me to use some smaller photos down the side of my page, in place of the tags, and the beads of the chandelier inspired my use of the circles stencil.

I used a doily & a detailed chipboard piece inspired by the doors of the mood board.
'En Fin Høstdag' by
Christin Grønnslett
I was inspired by the colours of the mood board to use this 'Fall' picture of my son. The sketch inspired me to use an extra long photo in place of the 3 photos on the sketch. I used some faux rust coloured leather to cut my scalloped border, in keeping with the mood board & some doilies & die-cuts to mimic the window details on the board.
'Look at us' by
Alexandra Polyzou
I was inspired by the amazing colours of the mood board and the romantic feeling to the first image, so used a photo of my two little girls in a special moment. The sketch inspired my use of the chevron washi tape & my mist splats & I chose to focus on the turquoise, pink & purple to suit my girly theme. I had so much fun!!
'My Girls' by
Gayle Price
Apart from turning the sketch around so the tags are at the bottom of the page, I have remained visually true to it, right down to the use of circular elements, tags, chevrons and splatters. I loved the colour scheme of teal and rust and was also influenced by the slightly 'shabby', feminine feel of the mood board, hence damask, doilies and dress forms.
'Believe' by
Julianne McKenna-De Lumen
I took most of my inspiration from the the 1st & 2nd images in the mood board - the colours, flowers & garden setting as well as the wooden textures and doors. I translated this onto
my page by using gorgeous garden elements, wood print washi tape & shades of blues, greens & pinks. I hope this mood board inspires you too!
Sponsorship Information
Our design team votes on all entries, thus selecting a winner & 3 features.
A random winner is also selected.
There will always be a prize for the Merit Winner & the Random Winner
.
If we get lucky there will be prizes for the featured layouts too!
This month, seeing it is our premier/début we have 5 PRIZES!!
We have prizes for the Merit & Random winner AND for all 3 features!!!
The winner will be invited back as guest designer for the next challenge.
If you are selected as the winner you need to contact me immediately @
helentilburyscrapaddict@gmail.com
with your e mail address
so I can send you the mood board/sketch combo you need to create with.
You are not obliged to accept the Guest Designer opportunity if you find the time frame too tight.
Our challenges are open to everyone, anywhere in the world & all this month's prizes include
FREE INTERNATIONAL SHIPPING!!
This month our merit winner will receive the newest collection from
Inkido!
PaperCraft Scandinavia
!
2nd place will receive the brand new collection from
13 Arts!
An awesome Polish company specialising in Paper Collections & mixed media art products.
3rd place will receive a $25 chipboard prize-pack from
Scrapmatts Chipboard
in Australia,
containing a selection of their latest releases!
Australian Made Laser Cut Chipboard to compliment your scrapbook pages, cards & papercrafting projects. Scrapmatts has a ning
site that showcases an amazing talented international design team who post daily on the blog there, a Gallery, customer challenges & an online store.
4th place will receive two sets of flowers from
Inkido!
PaperCraft Scandinavia
Our RANDOM winner will receive this assorted pack of goodies
donated by me :)
The deadline for this challenge is midnight EST Saturday 25th May 2013.
Please link your entries into our sidebar using our Inlinkz tool &
don't forget to read our RULES OF PLAY before you begin.

Please play along - our success depends on YOU!